Tin Lizzie JNL Download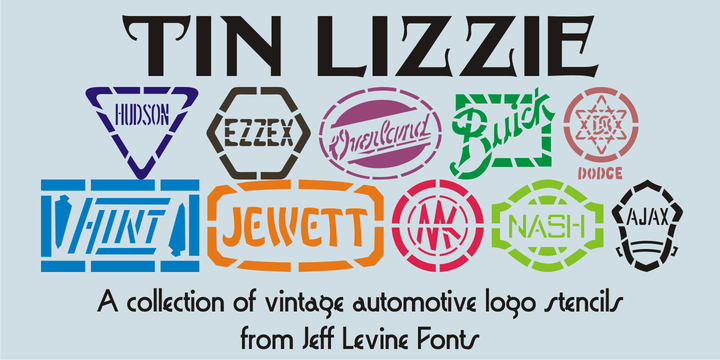 One of the most unusual sets of antique stencils spotted for sale online comprises a set of twenty-four classic logos of early 20th Century automobile companies.
For whatever purpose that is now lost to time, these stencils represented the logos of many of America's finest auto manufacturers; most now just historical memories.
The logos were painstakingly redrawn, maintaining the distinctive look of the hand made cutting, although it was an exacting process - some of the images were taken at an angle, and a bit of artistic license had to be used as a compensatory factor.
More…
No endorsements by such corporate entities are either expressed or implied.
Designers:

Jeff Levine

Design date:

2013

Publisher:

Jeff Levine

MyFonts debut:

Feb 28, 2013
Released 7 days ago